Take part in professional and organizational development activities for personal growth, for improved job performance or to improve your proficiency in a variety of skills.
Current Training/Workshops
Fitness Fridays

---
Oracle Training
Click here to schedule a session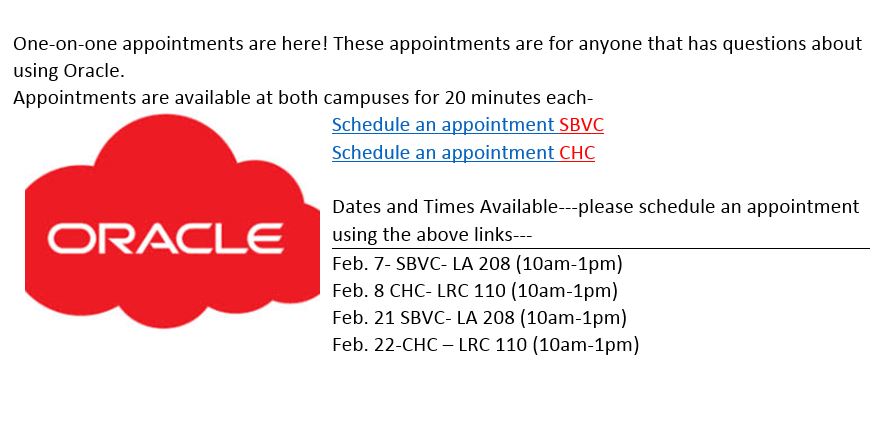 ---

The California Community Colleges announced in the summer 2016 that Lynda.com would be available through the Professional Learning Network. All CCC employees (faculty and staff) are now able to access the training through this website. You will need to register on the PLN with your district email; then once registered you will be able to access Lynda.com as well as other training opportunities offered through the PLN.
NOTE: SINCE THE STATE HAS NOW MADE LYNDA.COM AVAILABLE, THE DISTRICT NO LONGER HAS A SUBSCRIPTION WITH LYNDA.COM, EFFECTIVE 10/23/16.
Below are some FAQs:
1. What is the Professional Learning Network (PLN)?
The Professional Learning Network is a one-stop site for effective practices, trainings, and other resources for California Community Colleges faculty, staff, administrators, and trustees. Here is a link to a past webinar that provides the background on the development of the PLN and demonstrates its features and functionalities: https://www.3cmediasolutions.org/f/424c47772479bea15c195e8f8b36aa46e516c1a2
The link to the PLN website is https://prolearningnetwork.cccco.edu/
To log in/register: https://prolearningnetwork.cccco.edu/login/ (Once you register, you can access Lynda.com through the LEARN link)
NOTE for the District there are three options available (San Bernardino CCD (for district employees); San Bernardino Valley College (for Valley employees); and Crafton Hills College (for Crafton employees))
2. Who has access to the PLN?
The PLN is available to all California Community Colleges faculty, staff, administrators, and trustees.
3. What if I already have a Lynda.com account through SBCCD?
The District's Lynda.com subscription ended October 23, 2016. At this time, you will need to register on the PLN with your district email and access Lynda.com through the PLN website. If you currently have a Lynda.com account using your District email, then once you register through the PLN website it will prompt you that you already have an account and give you an option to migrate over your information.
4. What if I have trouble accessing my account through the PLN?
The PLN is managed at the State level. So, you should contact the PLN if you have trouble accessing any part of their website. If you have a question, need assistance, or want to provide feedback to the PLN, you should contact them through email: support@prolearningnetwork.org
---

The @ONE Project makes it easy for California Community College faculty and staff to learn about technology that will enhance student learning and success. @ONE's programs provide training and online resources for free - or at a very low cost - thanks to funding from the California Community College Chancellor's Office Telecommunication and Technology Infrastructure Program (TTIP).
Training
Each year, @ONE offers over 100 trainings, drawing more than 8,500 registrations. Workshops are taught by knowledgeable instructors who tailor their content to the specifics of the community college setting. The programs are also structured to fit a busy faculty or staff member's schedule.
Desktop Webinars
These one-hour webinars present emerging issues and best practices in using technology on your campus. Sessions are conducted with CCC Confer meeting software, which allows you to view a live PowerPoint presentation and talk with instructors and participants over a phone bridge.
Instructor-Led Online Courses
@ONE's online courses last several weeks and give you an in-depth understanding of how to use specific technologies in an instructional context. Courses include posted materials, links to resources, assignments, and the opportunity to share experiences with CCC faculty and staff throughout the state via discussion boards. Registration is only $65 for CCC faculty and staff.
Self-Paced Training
Self-paced online courses feature many of the same content areas as @ONE's instructor-led sessions, but allow you to learn on your own schedule. Streaming videos demonstrate how technology is being used to enhance learning at California Community Colleges.
---
See what is on the calendar of Distance Education - Click Here